AMITABH BACHCHAN'S UUNCHAI [HEIGHT]: REVIEW
It is said that the relationship of friendship is higher than all relationships and the height that filmmaker Sooraj Barjatya has given to the beauty of this relationship through the unconditional friendship of four friends, in itself touches the heart.
Read Time:
5 Minute, 18 Second
Movie Review: UUNCHAI
Actor:Amitabh Bachchan,Parineeti Chopra,Sarika,Anupam Kher,Neena Gupta,Boman Irani,Danny
Director: Suraj Barjatya
Category:Hindi, Adventure, Drama, Family
Duration:2 Hrs 49 Min
UUNCHAI MOVIE TRAILER
It is said that the relationship of friendship is higher than all relationships and the height that filmmaker Sooraj Barjatya has given to the beauty of this relationship through the unconditional friendship of four friends, in itself touches the heart. At the beginning of the film Uunchai, there is a dialogue by megastar Amitabh Bachchan, 'Heard that every question gets answered in this Everest, let's see how many of our questions we get answered here?' There are many questions in the lives of a trio of friends who set out to fulfill the last wish of their friend who has left the world to go to Everest Base Camp and in this journey they get answers to all those questions. One gets a new perspective towards life and relationships and through that the viewer goes home at the end of the film with a new hope and a new thought.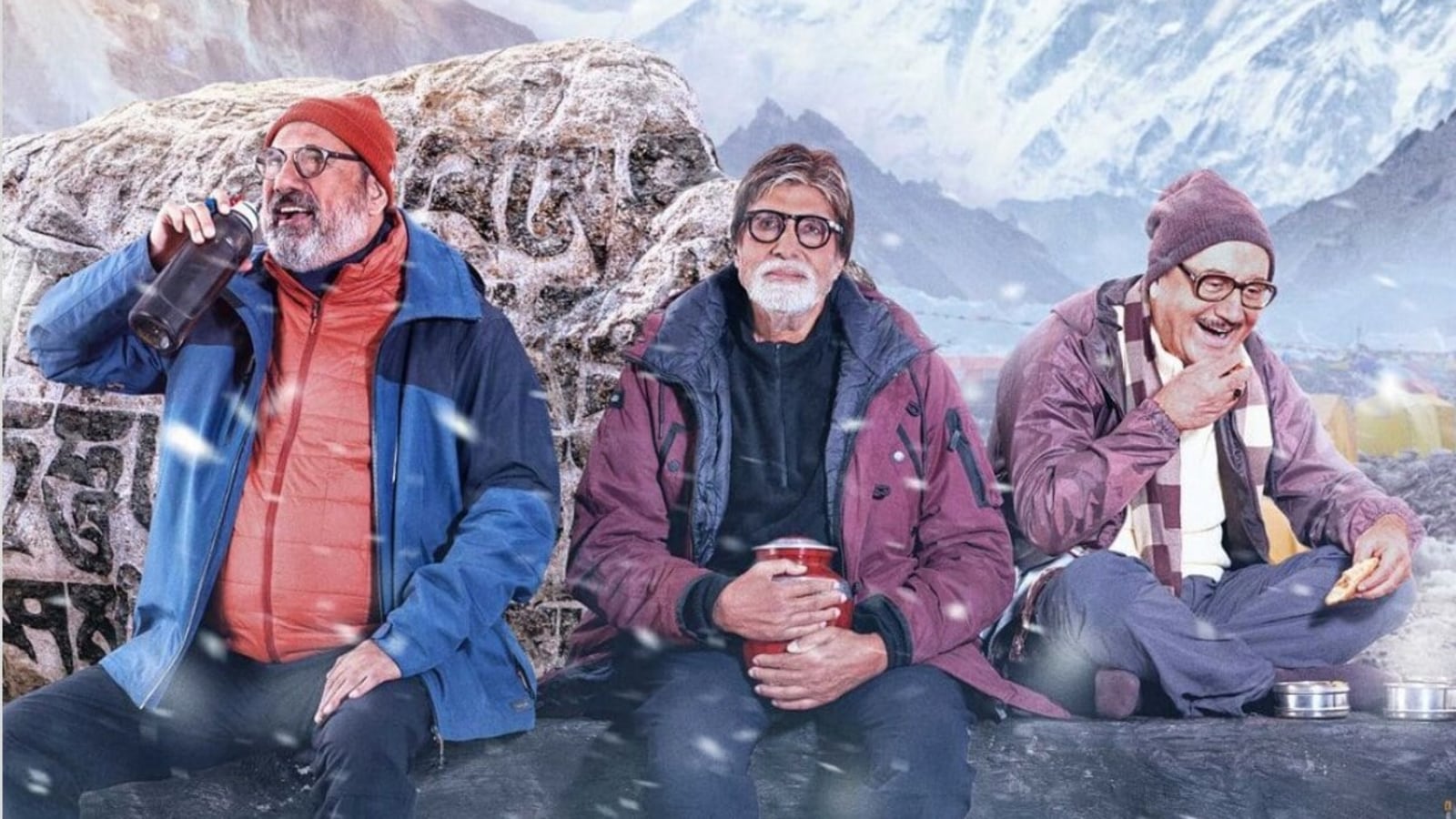 Uunchai Story
The story begins as a fun road trip where well-known best seller author Amit Srivastava along with his two other langotiyas (Boman Irani) and Om (Anupam Kher) come to pay tribute to his late friend Bhupen (Danny Dengzongpa) and pay his respects. Set out to reach the height of Everest's base camp to fulfill the last wish. After this the story goes to flashback. It's Bhupen's anniversary and he always wanted his old friend to climb Everest with him, but unfortunately on the night of his birthday, Bhupen dies due to a heart attack. At his last farewell, the friends learn that Bhupen not only wanted them to feel the height of Everest's base camp, but also wanted to tell them about his boyhood love, which made him vow not to marry for the rest of his life. had decided. Now all these friends are battling with the challenges of their growing age as well as health problems, but set out to make the impossible possible for the sake of a friend. All these friends have their own stories too. Javed, who runs a lingerie shop, and his chaste wife Shabana (Neena Gupta) share a beautiful relationship, they also have a married daughter, Heeba, while Om has his own bookshop, which he wants to keep at any cost to the mall builders. does not want to sell On the other hand, Amit is a celebrated writer among social media and youth, but in his real life too, there are some secrets which he has kept hidden because of his image. Mala (Sarika) also joins them as a co-traveller in this interesting road trip, but then these friends do not even know that Mala's thread is also connected somewhere in their lives. Parineeti Chopra accompanies him in this difficult journey as his captain and guide.
Uunchai Review
Producer-director Sooraj Barjatya returns with Altitude after a gap of seven years. It would not be an exaggeration to say that he has made the story relatable without compromising on Rajshree's family and cultural values. The interesting thing is that through this journey, the director also plays the internal journey of the characters through introspection without any rhetoric. Although the story revolves around the elderly characters, but through that Suraj does not ignore the thinking of the generation and their problems. Parent-child, inter-generational discord is rationally analysed. Suraj has taken full care of the fact that when tears flow from the eyes in emotional moments, there should also be such light moments, where you cannot live without laughing or smiling. It is written in the scriptures that our mountains are the symbols of our Vedas and this is the Himalayas, 'Even though we cannot see the Himalayas, but we should not forget that we also have the power of the Himalayas within us, through which we can handle every aspect of life. Can cross the height,' as the dialogues go deep into the heart. Among all the merits of the film, there is one shortcoming, the length of the film. According to the films of today's era, this film is very long. The journey of Delhi-Agra-Kanpur-Lucknow-Gorakhpur-Kathmandu is heart touching and enjoyable. The first half is strong, but in the second half the story looks a bit disorganized. Background score is awesome. Soulful lyrics by Irshad Kamil, music by Amit Trivedi. Manoj Kumar Khatoi's camera lens beautifully depicts all the locations of this road trip. Food and culture of different places are also visible.
Uunchai: Starcast and Acting
The fort of acting is the strongest in the film. Every artist is perfect in their cast and that is the reason why everyone's tone is seen to be restrained. There are many layers to Big B's character and when he plays this central character on screen, his style and swag as well as depth of emotion are visible. Anupam Kher in the role of short-tempered friend does not live without winning accolades. Neena Gupta has become the benchmark for the success of such family roles. It is good to see Sarika as Mala after a long time. Boman Irani makes Javed's character memorable with his special performance. Danny makes a deep impression in a small role. Parineeti Chopra does justice to her role.
Why watch – Must watch this film which explains the meaning of friendship and life.
My rating: 4/5
Author: Sangeeta Verma
Occupation: Indian film critic and reviewer
Education: Bachelor's degree in English Literature, Masters in Mass Communication
Career: Sangeeta Verma started her career as a freelance writer and film critic and continuing it.