"Film Critic Unveils the Magic: Shahrukh Khan 'Jawaan' Movie Review" 🔥🎇
Dive into the cinematic brilliance of Shahrukh Khan's latest masterpiece as our film critic dissects 'Jawaan' in this captivating movie review. Explore the riveting plot, stellar performances, and heartwarming moments that make 'Jawaan' a must-watch. Discover why Shahrukh Khan continues to reign as the king of Bollywood in this insightful critique.
Read Time:
8 Minute, 45 Second
Film Critic: Jawaan Movie Review: Shahrukh Khan 'Jawaan' rebels on the issue of farmers' suicide, new wave of action, emotion and dialogues
Producer: Gauri Khan
Director: Atlee Kumar
Artists:Shah Rukh Khan, Deepika Padukone, Nayanthara, Priyamani, Vijay Sethupathi and Sanya Malhotra
Writer: Atlee and S. Ramagirivasan
Release:7 September 2023
Rating:  4/5
Dive into the cinematic brilliance of Shahrukh Khan latest masterpiece as our film critic dissects 'Jawaan' in this captivating movie review. Explore the riveting plot, stellar performances, and heartwarming moments that make 'Jawaan' a must-watch. Discover why Shahrukh Khan continues to reign as the king of Bollywood in this insightful critique.
WATCH THRILLING MOVIE TRAILER "JAWAAN" :      👉     CLICK HERE     👈
"Jawaan: Where Action Meets Politics, Swirls with Sweet Surprises!" 🎬🇮🇳🤩
"What's the deal with the movie 'Jawaan'? This flick is all about the Indian Army and our hardworking farmers. They should've probably named it 'Jai Jawan, Jai Kisan,' but then it might have been mistaken for a political drama! You see, there's a good dose of politics in there, and it's like every sweet treat in the world is Shahrukh Khan's swaggerlicious Motichoor laddu.
The story? Oh, it's a real rollercoaster ride. Picture this: a baby is born in jail, and guess what? That baby gets a brand-new mom! And to top it off, it's all happening on Janmashtami, like a modern twist on the tale of Vasudev and Devki's sons.
But wait, there's more! Shahrukh Khan isn't just acting here; he's dropping some serious commentary on our country's current political scene. It's like a conscious producer, a top-notch director, and a seasoned actor got together to serve up this spicy cinematic dish." 🍿✨
"Shahrukh Khan's Wake-Up Call: From Farmers to Rabris, 'Jawaan' Takes on Politics with a Dash of Laughter!" 🌽💉🤣
You know, whenever Shahrukh Khan steps into roles that tackle real-life stuff, folks really dig it. There's this genuine vibe about him, and when he's on screen, it's like he's speaking right to your heart. So, here he is, talking about those poor farmers who are dealing with the banks, the same banks that conveniently forget about the big bucks owed by the rich folks, calling it NPA (Non Performing Assets). Talk about a double standard, right?
And it's not just the farmers; our government hospitals are in quite a pickle too. Things take a hilarious turn when the state's health minister ends up in one of those hospitals for an operation after getting shot. Talk about irony!
Health and agriculture are like peanut butter and jelly for the common people. But wait, there's more! There's this whole hullabaloo about politicians handing out freebie right before elections, like it's some kind of miracle cure for all our problems.
In the midst of all the chatter about "One Nation, One Election," the movie 'Jawaan' pops up like a friendly reminder for all us voters. Boldly reminding us that there's more to politics. 🍿🎥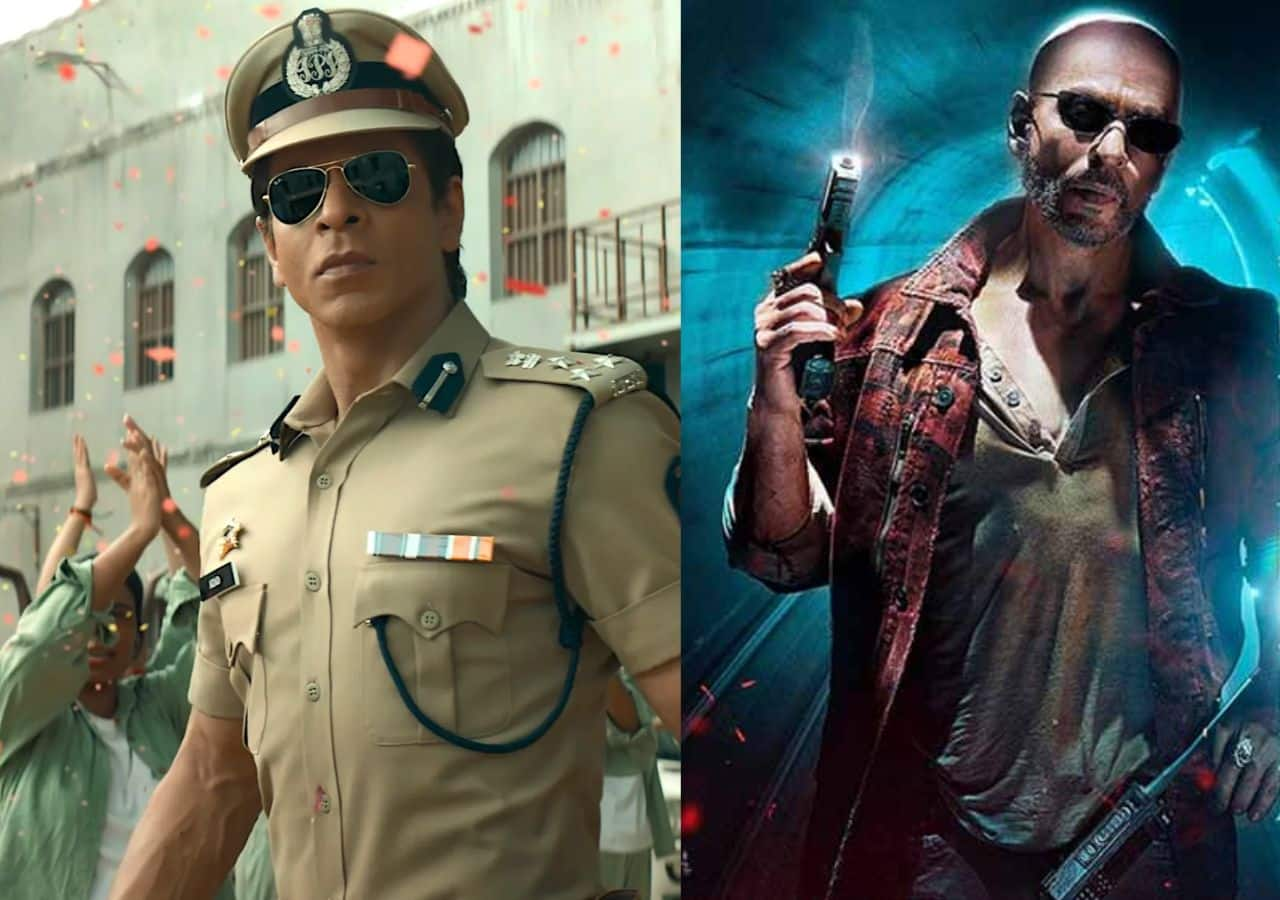 "Jawaan: Where Bollywood's Swagger Meets Family Drama in a Hilarious Horoscope Twist!" 🌟🍿😄
You know, if you're one of those cinema-savvy folks who can spot the link between movies and society, you're probably pondering all this. So, here's the deal with the movie 'Jawaan.' It's like the sequel to Shahrukh Khan's 'Pathan,' where he's still riding the youth wave at the box office. He's even spilled the beans on why he jumped into this project.
So, Atlee, the director, pitches this story for 'Jawaan.' Picture this: there's this dude on screen, causing chaos with a bunch of inmates, kicking some butt, belting out songs, and delivering lines like, 'Talk to Dad before touching the son!' Sounds familiar, right? It's like Shahrukh's real-life DNA infused into the character.
But here's the twist – Atlee stirs in a dash of family drama, mixing a son's journey with a soldier's story. As the son grows up, he bumps into a gal who's more interested in finding a father figure than her mom's next husband. And guess what? This match-up between law and mischief brings a horoscope-sized dose of chaos. 🌟🎬
"'Jawaan': Spicing Up Mumbai Masala with Shahrukh's TED-Style Wisdom and a Slamming Slammer Saga!" 🌶️🎥🎢
Well, hold on to your popcorn, folks, because 'Jawan' is one heck of a crowd-pleaser! It's got all those classic Mumbai cinema ingredients we've known and loved for ages. Think of it as your spicy masala movie, but with an action-packed twist. And guess what? Shahrukh Khan himself takes a break from the action to drop some wisdom on the audience. Yep, it's like a mini TED talk right in the middle of the movie, making everyone ponder life's mysteries for a hot minute.
Speaking of mysteries, remember the whole deal with sending money directly to people's accounts? It's a bit like the tale of the 2000 rupee note – new and mysterious. And let's talk about the story of 'Jawaan.' It's like they hit the jackpot with the adventures of Kanhaiya, born right there in the slammer. The Gopis are in on the action too, doing the Raas dance and doubling up as backup dancers in the religious showdown.
As for Atlee, the writer-director, he's woven this story so cleverly that it's like a rollercoaster ride that never really hits a boring patch, except maybe for that occasional song or two. 🍿🎬🤔
"Shahrukh's Name: Let the Party Begin!" 🎉🎈
Seeing Shah Rukh Khan on the big screen these days is like having a party, and I'm not just talking about any party – it's like the grand celebrations they have down South when Rajnikanth or Vijay drop a new movie. Shahrukh is soaking up this newfound stardom like a sponge in a water fight. He's got a fresh, cheeky vibe going on that's got everyone chuckling. He's basically the superhero we didn't know we needed, sweeping away all our modern-day woes. He's like that friend who never brings up the past, but when he does, time itself seems to stand still for you.
Now, let's talk about Vijay Sethupathi, the arms dealer with a political agenda. He's all about making sure the political party that dances to his tune wins the upcoming elections. You can practically see his influence oozing from his character. And when he gets a chance, he drops some comic gems, like in the climax when he turns to his henchmen and says, 'Hey, wrap it up, or they'll start singing again!' 🎉🍿
"Deepika's Brilliance: Making Everything Else Look Like a Dim Lightbulb!"
Well, hold onto your hats because 'Jawaan' is bursting at the seams with female characters! Back in the day, Raj Kapoor was the trendsetter for giving top billing to the leading ladies, and guess what? Shahrukh Khan is keeping that tradition alive. He's all about giving credit where credit's due.
Now, they might have tried to promote Nayantara as the leading lady, but let's get real here – Deepika Padukone steals the show! Her role might be smaller, but her impact? Oh, it's like a tsunami of awesomeness! As Aishwarya, the gal who shows her lover who's boss, Deepika lights up the screen so brightly that even Nayantara and the other gals can't help but feel like they need sunglasses in her presence.
Deepika's got the whole package – the look, the grace, the fiery attitude, especially when she's on a motherhood mission. It's a performance that'll have you both cheering and shedding a tear or two. Meanwhile, Nayanthara's job is to keep the wild hero in check, and she does it with finesse. You better believe she's winning over some new fans in the Hindi belt with her stellar efforts. 👩‍🦰🎥✨
"'Jawaan': Where Cinematic Sorcery Meets Editing Wars, with a Musical Speed Bump in the Action Highway!" 🎥🪄🎶😄
Apart from all the usual suspects – the story, direction, acting, and screenplay, 'Jawaan' brings some cinematography and editing magic to the table that'll make your jaw drop. GK Vishnu, the camera wizard, goes all international-grade in those action scenes. And then there's Ruben, the editing maestro, who's basically gone to war on the cutting room floor and come out as the undisputed champ. It's like the Avengers of behind-the-scenes talent!
But, hang on to your popcorn, there's a twist. Right in the middle of all the action, there's a song and dance number with Shahrukh and Nayanthara that's like a roadblock in the story's highway. It's like they hit a speed bump in the midst of all this action-packed drama.
And here's a fun fact: Since Atlee is a South Indian filmmaker, he's gone with music from his neck of the woods. Anirudh, the composer, has done a solid job, catering to the local vibes. But you gotta wonder, if they'd picked tunes more suited to the Hindi-speaking crowd, would it have been a whole different ballgame? 🎥🎶💃🤔
https://araventertainmenthub.com/fast-x-review-soul-of-powerful-franchise-lost-in-the-glare-of-stars/
https://araventertainmenthub.com/plugged-in-movie-reviews-unmasking-the-thrills-exploring-bird-box-barcelona-a-horror-phenomenon/
Author: Sangeeta Verma
Sangeeta Verma is highly experienced professional with a Master's degree in Mass Communication. With over 10+ years of experience in the field, Sangeeta Verma has established themselves as a respected blogger, film critic, and freelance reviewer. Their in-depth knowledge and understanding of the entertainment industry, coupled with their exceptional communication and writing skills, make them an asset to any project. Sangeeta Verma has a keen eye for detail, and their insights and analysis have been published in numerous well-respected publications. Her passion for the work is evident in everything she does, and committed to delivering high-quality content that engages and informs the audience.