GANDHI GODSE : EK YUDH, A Review
Another film released in theaters with Pathan is "Gandhi Godse Ek Yudh". It is produced by Rajkumar Santoshi. Which tries to do something new in an imaginative way. But this film can also disappoint some people. 
Read Time:
3 Minute, 41 Second
GANDHI GODSE: EK YUDH [GANDHI GODSE : A WAR]
Another film released in theaters with Pathan is "Gandhi Godse Ek Yudh". It is produced by Rajkumar Santoshi. Which tries to do something new in an imaginative way. But this film can also disappoint some people. 
While on the one hand there is fame of Pathan, on the other hand such a film has come which covers a very big issue. Rajkumar Santoshi's film 'Gandhi Godse Ek Yudh', related to the assassination of Mahatma Gandhi, has come. This story begins with a fantasy. What if Mahatma Gandhi had survived? What could have happened… The makers have tried to show these possibilities. He begins the film with the assumption that Gandhi must have been shot but survived. Now what do they do…these things have been highlighted. He shows how Mahatma Gandhi forgives Godse. He visits her in jail. Both argue on their own ideology. Keeping this in the center, the story of the film has been fabricated.
In 'Gandhi Godse Ek Yudh', Deepak Antani is in the role of Gandhi and Chinmay Mandlekar is in the role of Godse. Rajkumar Santoshi has shown the other side of Gandhi through his film. The film begins with the partition of India and Pakistan. There is pain of partition in the country. Gradually the film reaches the Hindu and Sikh part of how these communities turned against Mahatma Gandhi. The first half of the film goes into building up the story.
'Gandhi Godse Ek Yudh' covers some important events, such as Gandhi's fast unto death for Hindu-Muslim peace and the conditions for ending it. The discussion of Gandhi vs Godse has been going on since 1948. The film imagines Gandhi and Godse arguing face to face. These scenes are from the jail. But these scenes look dull.
Gandhi Godse – The war  is going on with words. Both talk on their own ideology and action. But this play of words seems weak. The film also touches on those social issues. When Gandhiji established Gram Swaraj. He starts a campaign in support of backward Dalits. Many incidents are portrayed scene by scene. It also tries to show how the emotions and narratives of the people were manipulated at that time.
How is the acting:
Talking about acting, Deepak Antani and Chinmay Mandlekar have played the role of Gandhi and Godse. Both do justice to these characters. Their pronunciation also suits. Apart from these, Pawan Chopra in the role of Jawaharlal Nehru, Babasaheb Ambedkar, Maulana Azad, Sardar Patel (Ghanshyam Srivastava) have all contributed to the film.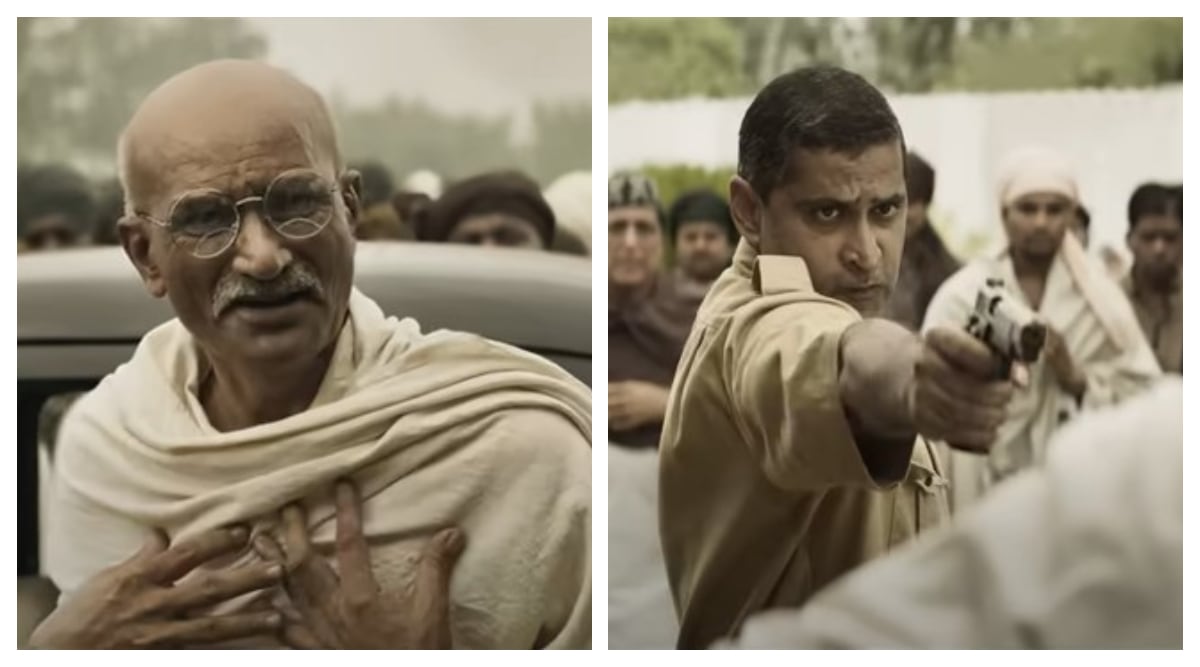 How is the direction of the film:
Now coming to the direction. Rajkumar Santoshi has directed 'Gandhi Godse Ek Yudh'. He makes a good grip on this drama, there are many ups and downs in the direction. But the film's treatment, Rishi Punjabi's cinematography, light play and macro videography look fine. Many incidents during the partition are depicted as if they have come alive twice. Asghar Wajahat's dialogues are impressive, especially Gandhi's dialogues like- 'Governments rule, they do not serve.'
The film takes a critical look at some of Gandhi's ideologies such as celibacy. His statement about Kasturba Gandhi that he had done wrong to her personally. Also the mention of Jayaprakash Narayan, Harilal (Hiralal) and Manilal Gandhi or Godse remembering other leaders provides some accountability.
Watch or not to watch:
Talking about the music, the music has been given by veteran artist like RR Rahman. Both its songs Vaishnav Jan To and Raghupati Raghav are well set in the film. Gandhi Godse: A War is a film worth watching. If you complete the first part patiently then you will enjoy the second part. But, this film definitely disappoints those people who took the risk for this country. United day and night and made India by sacrificing.
My rating= 3.5/5
Author:Sangeeta Verma
Occupation: Film critic and reviewer, Blogger
Education: Bachelor's degree in English Literature, Masters in Mass Communication
Career: Sangeeta Verma started her career as a freelance writer and film critic and continuing it.