AJAY DEVGAN'S DRISHYAM-2, THRILLER MOVIE
Read Time:
4 Minute, 57 Second
Movie Review: Drishyam 2
Actor:Ajay Devgan,Tabu,Akshay Khanna,Shriya Saran,Ishita Dutta,Sourav Shukla,Mrunal
Director: Abhishek Pathak
Category:Hindi, Suspense, Action, Drama
Duration:2 Hrs 20 Min
DRISHYAM-2 Trailer
I can't live without my family. I can do anything for them. Then the world calls me selfish or self-centered' This dialogue of the film from 'Drishyam One' to 'Drishyam 2' is the core of the story. In Part One, Vijay Salgaokar (Ajay Devgan) had crossed his limits to save his family from today and a year ago, but there is another dialogue in the same film, 'Truth is like a tree's seed, as long as you bury it. Neither one day it comes out' Now after seven years, in part two of Drishyam, the dark truth of the past has come to the fore, in such a situation, in the eyes of the world, will Vijay, who is called self-centered, be able to cross his limits this time to save the family? The story of Drishyam 2 is woven in the fabric of this secret. After the immense success of Part One, the audience was eagerly waiting for Part 2 of the film and it would not be wrong to say that in the form of Part 2, the film will be full of twists and turns.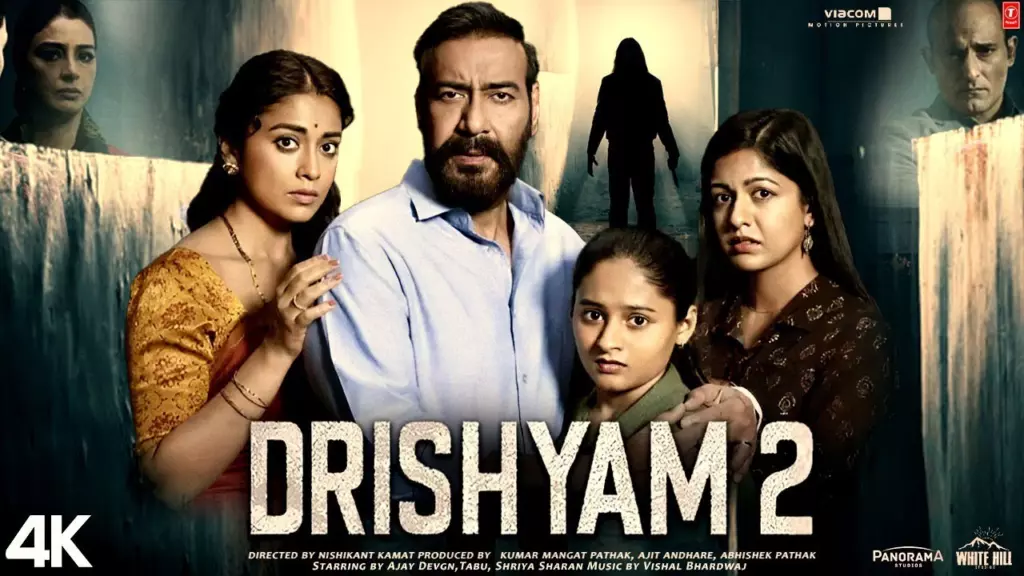 Ajay Devgan, Shriya Saran, Ishita Dutta and Mrunal in Drishyam 2
Story of 'Drishyam 2'
Part 2 is an adaptation of the Malayalam thriller of the same name. The story begins from where 7 years ago, Vijay walks out of the police station carrying a shovel, unaware that there may be a witness to his crime, though that witness himself is convicted of murder and is going to jail. Already happened. Now comes the story, in today's time. Seven years later, Vijay has fulfilled his dream. He has become the owner of a cinema hall. He is preparing to make a film based on his story. His daughter Anju (Ishita Dutta) is still traumatized by the events of the past and suffers from epilepsy. Younger daughter Anu (Mrinal Jadhav) has entered her teenage years. Wife Nandini (Shriya Saran) keeps sharing her joys and sorrows with the neighbor Jenny (Neha Joshi), unaware that the dark shadow of the past has not left them. Vijay Salgaonkar may have become prosperous financially, but socially there are various misconceptions about whether Vijay was the criminal who had murdered and disappeared the dead body. Just then, the new IG Tarun Ahlawat (Akshaye Khanna) is transferred to Goa. Tarun is a friend of Meera Deshmukh (Tabu). Meera is settled in London with her husband Rajat Kapoor, but has come to Goa on her son's death anniversary. The wounds of his son's murder have become fresh. At any cost, she wants to make Vijay reveal the truth and put him and his family behind bars. Tarun joins him and they get hold of some such evidence that it becomes impossible for Vijay and his family to escape. What will Vijay do now? Will he be able to save his family like last time, you will have to head to the cinema hall to know.
Ajay Devgan, Shriya Saran, Ishita Dutta and Mrunal in Drishyam 2
Review of 'Drishyam 2'
Part one of this film was directed by the late Nishikant Kamat. Part Two is directed by National Award winning director Abhishek Pathak Jaisi Boond. Abhishek has spent a lot of time developing the story. This is the reason that when the interval point comes in the first half, the audience is left wondering whether there will be some mystery and thrill ahead? The same deficiency was visible in the original Malayalam film as well. But in the second half, the story starts galloping and such turns and twists come that you cannot move from your chair. The film's pre climax and climax run for almost half an hour and this is its USP, which is a bang in every way. Many dialogues written by Amil Kian Khan are remembered. DOP (Director of Photography) Sudhir Kumar Chaudhary's camera angle is sharpened. Devi Prasad's background score deepens the film's suspense. Don't miss the song Sahi Wrong by Amitabh Bhattacharya that comes with the credits and title track. In terms of acting, the film does not prove to be nineteen anywhere.
Ajay Devgan, Shriya Saran, Ishita Dutta and Mrunal in Drishyam 2
Strong style of the cast of 'Drishyam 2'
The interesting thing is that even after seven years, Part 2 has almost the same star cast, but none of the actors look out of character. Ajay Devgan lives up to the concept of an ordinary man becoming extraordinary. His acting seems effortless. Akshaye Khanna's performance as a new character proves beneficial for the film. The role of such a snooty cop suits him very well. Tabu plays her role in a strong way. This time Shriya Saran has got more and Ishita Dutta a little less screen space, but both have brought life to their roles. Rajat Kapoor brings out the natural acting style as always. Sourav Shukla suits the role of the writer. Apart from Neha Joshi, Mrinal Jadhav, Inspector Gaitonde also brings light moments in the story this time on the basis of his acting and dialogue delivery.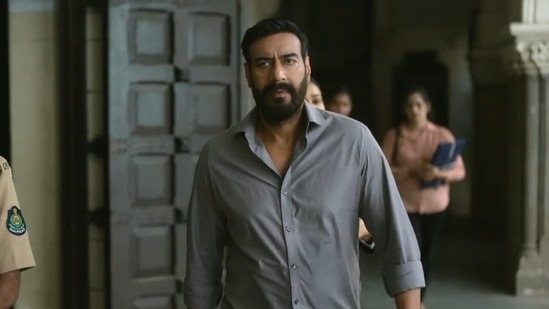 Ajay Devgan in Drishyam 2
Why watch: Suspense thriller fans and Drishyam One fans must watch this film.
Author: Sangeeta Verma
Occupation: Indian film critic and reviewer
Education: Bachelor's degree in English Literature, Masters in Mass Communication
Career: Sangeeta Verma started her career as a freelance writer and film critic and continuing it.