Plugged in movie Reviews- Hollywood's The Super Mario Bros. Movie Review: 3D adventure world of video games, a film based on the charisma of Mario/ e entertainment
The nostalgia of The Super Mario Bros. is revived by Aaron Horvath and Michael Jelenic, but at what cost? The least of the expectations we as the fans had for the movie are that it will be harmless fun. You were unable to empathise with the protagonist's emotional journey to free his brother because of Mario and Luigi's shoddy relationship
Read Time:
6 Minute, 41 Second
Plugged in movie Reviews- Hollywood's Blockbuster The Super Mario Bros.: 3D adventure world of video games, a film based on the charisma of Mario \ e entertainment
Producer:  Illumination,Universal Pictures, and Nintendo
Director: Michael Jelnick and Aaron Horvatht
Writer: Matthew Fogle
Star Cast: Chris Pratt, Anya Taylor-Joy, Jack Black, Keigle Michael Key, Seth Rogen and Fred Armisen (voice actors)
Release date: 7 April 2023
Runtime: 104 Minutes
Watch Youtube official Trailer of The Super Mario Bros here:  👉 CLICK HERE  👈     
The brand-new Super Mario Bros. trailer will get you back in old time and rekindle your fond childhood memories. Continue reading……. 
The Super Mario Bros: Story, Direction, Music
The Super Mario Bros. nostalgia is revived by Aaron Horvath and Michael Jelenic, but at what cost? The least of the expectations we as the fans had for the movie are that it will be harmless fun. You were unable to empathise with the protagonist's emotional journey to free his brother because of Mario and Luigi's shoddy relationship. The original theme by Koji Kondo has been expertly recreated by Brian Tyler, but it is limited. You want more of these kinds of scenes, and there's a great scene where Bowser plays the piano to Mario's underground theme
Video games and 3D have been a part of our world for over half a century. One of the most favorite games of the children of the 90s was the video game Mario. Mario has his own world. His Mushroom Kingdom has been a favorite world from children to adults. In 1993, a film inspired by the Mario Bros. video game was made, which proved to be a blockbuster hit. Mario Bros. is back on the big screen to relive the nostalgia of its viewers.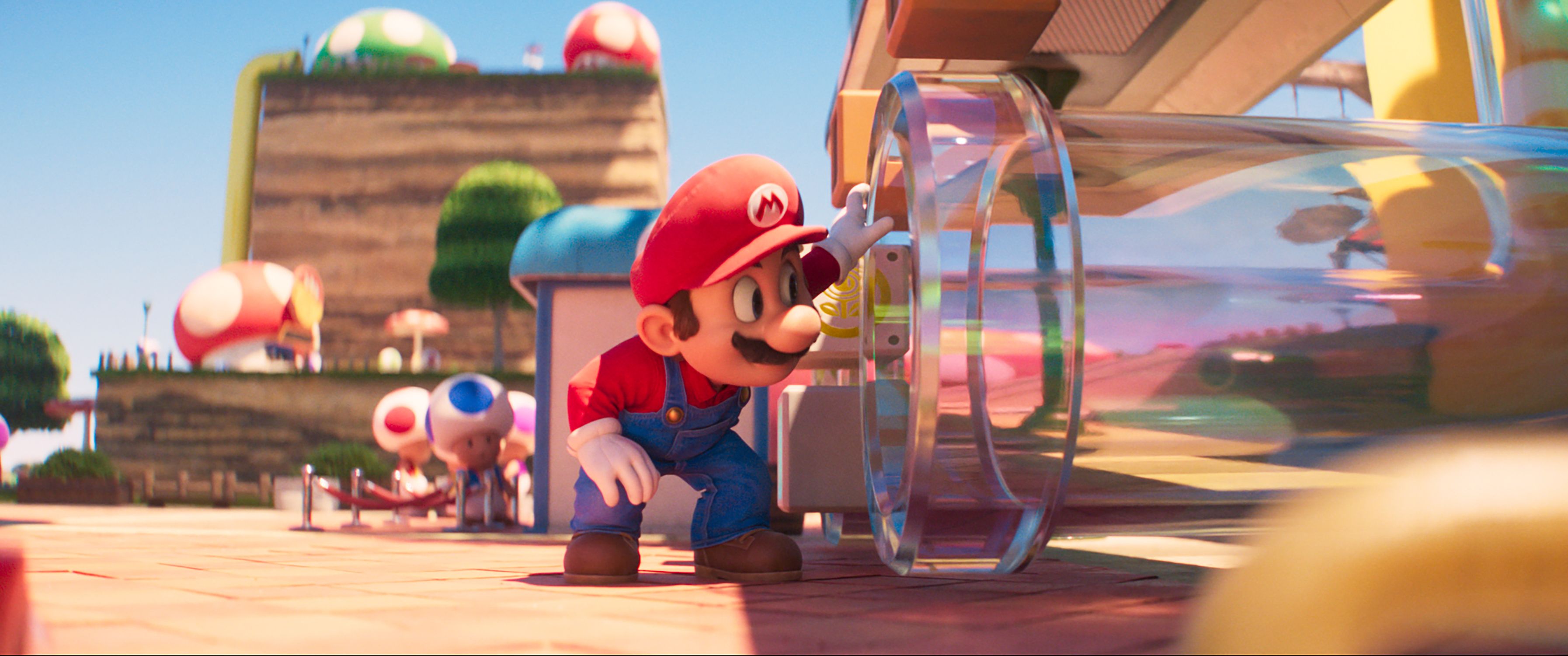 The story of the film revolves around Mario Bros. While trying to get a project for their plumbing business, the brothers come across a magical pipe that takes them to a new world. Mario lands in a Mushroom Kingdom while Luigi falls in a dark land. This is where the story begins. Where Mario wants to save Luigi. In doing so, he meets Princess Peach and her Toads who want to stop Bowser from destroying the kingdom. They seek help from the jungle kingdom and succeed in doing so. Now, will Mario be able to save Luigi from Bowser while also helping Princess Peach? To know this, you will have to watch the film.
The Super Mario Bros. is for those who have played Mario Bros. video games because there are many things in this movie that will bring back your old days. The animation and background score in the film is commendable. The effect of the film looks different on the 3D screen. Every character has got their due space and with this every angle of the film has been worked well. Seeing many things like rainbow road, mushroom and turtle in the film, you will feel that you are playing a video game and you are also engaged in winning the game. If you're a Mario fan, you'll even laugh at times. The director has been successful in making the film look like a video game.
The Super Mario Bros. Movie Review: Star Performance
He failed to replicate Chris Pratt's voice from The Lego Movie, or perhaps it was just a good story, and instead provided a generic sh*t-load of garbage. In addition to exhibiting stereotypical Italian characteristics like saying "Mamma-Mia," Pratt mispronounces the catchphrases "It's me, Mario!" and "Let's go!" Right there, Charles Martinet was! Since the beginning of time, he has been the official voice of Mario. In 2022, he also stopped posting his voice videos, which he began on Vine, at Nintendo's ostensible request. How are we aware? Charles responded with "Thanks for understanding" when a fan texted him to inquire if he had been asked to do so, showing that he could have brought it back had the studio made just one wise choice in his favour.
Seth Rogen asserted that the 1993 live-action Super Mario Bros. movie is "one of the worst movies ever made"; this is his opinion, but after seeing the cliched mess they've created with this one, he claims that this is the contract speaking. The only person to complete the task successfully is Jack Black, who gives the villainous Turtle Browser his eccentric voice. Charlie Day and Anya Taylor-Joy are essentially alright.
The Super Mario Bros. Movie Review: Script Analysis:
The problem is that Matthew Fogel, one of The Lego Movie's three writers, fails to maintain the clever humour and instead indulges in fan service. Considering that either children or adults who have lost their childhood are the game's fans. This doesn't support Shigeru Miyamoto's (Mario's creator) long-standing idea of how the Mushroom Kingdom should look. That calls for sensibilities akin to Pixar. Even though the movie uses a lot of nerdy references, such as question mark boxes, the bullet bill, and power-ups, it lacks an equally compelling character narrative.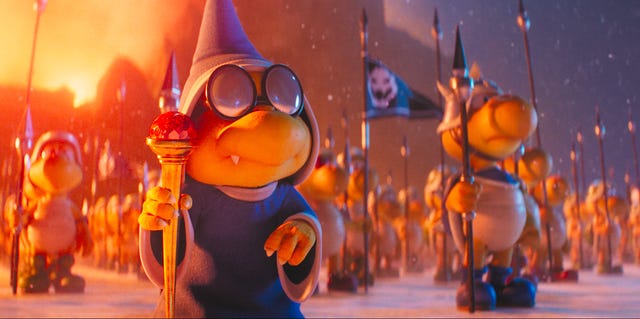 The result is a bland one when catchphrases like "Sorry Mario, the princess is in another castle" are dropped. For those who don't know, Mario was originally going to be a carpenter and made his debut in the classic arcade game Donkey Kong as the main character attempting to save his girlfriend from the Ape. Miyamoto took a similar model and gave Mario his permanent identity—that of an Italian plumber—before separating it from Donkey Kong and bringing it back together for this movie. They should have received a much better-written frenemy subplot to properly honour the reunion.
But, the strength of this film is also its weakness. In the process of showing like a video game, the film gets defeated in the story. The name of the movie is Mario Bros. but it's all about Mario, and Luigi is portrayed as helpless. Which is completely different from the title. If we talk about the characters, then you will be curious to see Mario. But the best character in the film is that of Bowser (Jack Black). After watching the film, it seems that it has been made only for the fans of Mario Bros. If you go to watch the film like a common audience, then this film can disappoint you.
https://araventertainmenthub.com/top-notch-mrs-desi-bhabhi-performs-a-dance-to-mere-husband-mujhko-piyar-nahin-karte-becoming-a-sensation/ 
https://araventertainmenthub.com/bollywood-actress-who-were-kidnapped-unfortunately-one-brutally-murdered/
Rating : 3/5
Author: Sangeeta Verma
Occupation: I am an Indian film critic and reviewer
Education: I have Bachelor's degree in English Literature, Masters in Mass Communication
Career: I started my career as a freelance writer and film critic and continuing it. I have rich experience of about 10 years