Revolutionizing Cinema: Vidya Balan Controversial Remarks on the Fate of Women-Oriented Films 🤐
Neeyat Movie Review: Discover Vidya Balan's Impact and the Future of Women-Oriented Films in Anu Menon's Latest Creation. Get an Honest Perspective on this Below Average Film, Exploring the Intriguing Narratives and Thought-Provoking Performances by the Cast. Dive into our In-Depth Review Today!
Read Time:
6 Minute, 56 Second
Neeyat Movie Review: Vidya Balan casts doubt on the future of women-oriented films, Anu Menon's below average film
Neeyat Movie Review: Discover Vidya Balan's Impact and the Future of Women-Oriented Films in Anu Menon's Latest Creation. Get an Honest Perspective on this Below Average Film, Exploring the Intriguing Narratives and Thought-Provoking Performances by the Cast. Dive into our In-Depth Review Today!
Artists: Vidya Balan, Ram Kapoor, Rahul Bose, Neeraj Kabi, Amrita Puri, Shashank Arora, Nikki Walia and Prajakta Koli
Writer: Girvani Dhyani, Anu Menon, Advait Kala and Priya Venkataraman
Director: Anu Menon
Producer:Vikram Malhotra
Release: 7 July 2023
Explore the paradigm shift in cinema with Vidya Balan groundbreaking and thought-provoking commentary on the future of women-oriented films. Uncover the controversy surrounding her remarks and discover how her perspective is revolutionizing the industry. Delve into the evolving landscape of female-centric storytelling and its impact on the cinematic experience
WATCH TRAILER OF NEEYAT HERE:      👉      CLICK HERE      👈
Vidya Balan: Pioneering Hindi Cinema with Unconventional Roles
Vidya Balan stands among the distinguished actresses of our nation who have revolutionized Hindi cinema with their determination and unwavering commitment to their characters. Her groundbreaking film, "The Dirty Picture," served as an inspiration for Taapsee Pannu, Nushrat Bharucha, Parineeti Chopra, Huma Qureshi, and many others to venture into female-led roles. As a result, Vidya Balan's movies played a pivotal role in diverting audiences from the conventional cinema norms. Presently, it has become challenging for such films to secure theatrical releases; even post the pandemic, they have predominantly opted for OTT platforms. Fortunately, Vidya Balan's upcoming film, "Niyat," part of this remarkable series, has managed to secure theatrical screenings. However, had this film been executed with utmost precision, it could have marked a groundbreaking milestone for all Hindi cinema actresses
Unraveling Secrets and Solving a Murder: The Intriguing Tale of 'Niyat
The tale of the movie 'Niyat' commences with Ashish Kapoor, a billionaire businessman. He extends an invitation to a select group of close friends for a birthday celebration at his exquisite seaside villa in Scotland. Among the attendees is Detective Meera Rao, who graces the event as a special guest. However, the story takes an unexpected turn when chaos ensues due to the shocking news of Ashish Kapoor's murder. The investigation into his untimely demise becomes the central focus of the film, intricately intertwining its diverse cast of characters. Meera Rao embarks on a quest to unravel the layers of mystery one by one. Every guest present at the party falls under suspicion, with their hidden secrets serving as potential motives for this heinous crime. If the mention of Daniel Gregg's 'Knives Out' film series comes to mind while reading this, you are not mistaken. Such connections are often made while engrossed in a movie. Additionally, one cannot help but recall the filming incentives offered in Britain during this period, along with pondering the capabilities of Indian investigative agency personnel!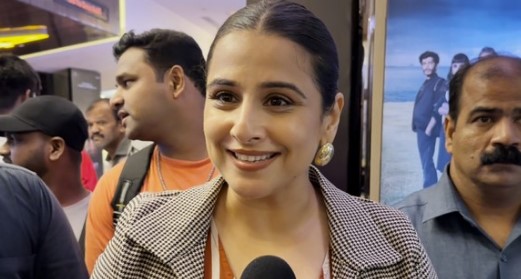 Missed Opportunities and Fading Allure: Critiquing the Storytelling of 'Niyat:
The film 'Niyat' possesses a storyline that manages to sustain the curiosity of even those who haven't experienced foreign films. However, the film's writers failed to capitalize on this intriguing premise. Girvani Dhyani, Anu Menon, Advait Kala, and Priya Venkataraman collectively crafted the story, but when numerous writers collaborate on a project, concerns arise about the seamless integration of their individual contributions. Unfortunately, such apprehensions prove valid right from the beginning. The story feels familiar, lacking novelty. The screenplay itself is lackluster and uninspiring, causing the initial allure of the film to gradually fade away. The mysteries and twists in the narrative become muddled and indistinct, while the lead actor starts to lose their grip on their character.
Weak Characterization and Lackluster Performance: Evaluating Vidya Balan in 'Niyat:
In 'Niyat,' Meera Rao, portrayed by Vidya Balan, enters as a CBI officer determined to apprehend Ashish Kapoor and bring him back to India. Regrettably, the weakest aspect of this film lies in Vidya Balan's portrayal. Neither her character is adequately developed nor does Vidya Balan deliver any noteworthy performance beyond briefly exploring her character's past and working style. Her on-screen presence lacks the connection expected of a seasoned actor, and the other characters show little regard or reverence for her role. The dialogue feels like a conversation between street ruffians, and Vidya's body language contradicts her character's essence. While Vidya Balan and producer Vikram Malhotra have previously collaborated on remarkable projects featuring strong female leads, this particular endeavor fails to replicate their past success.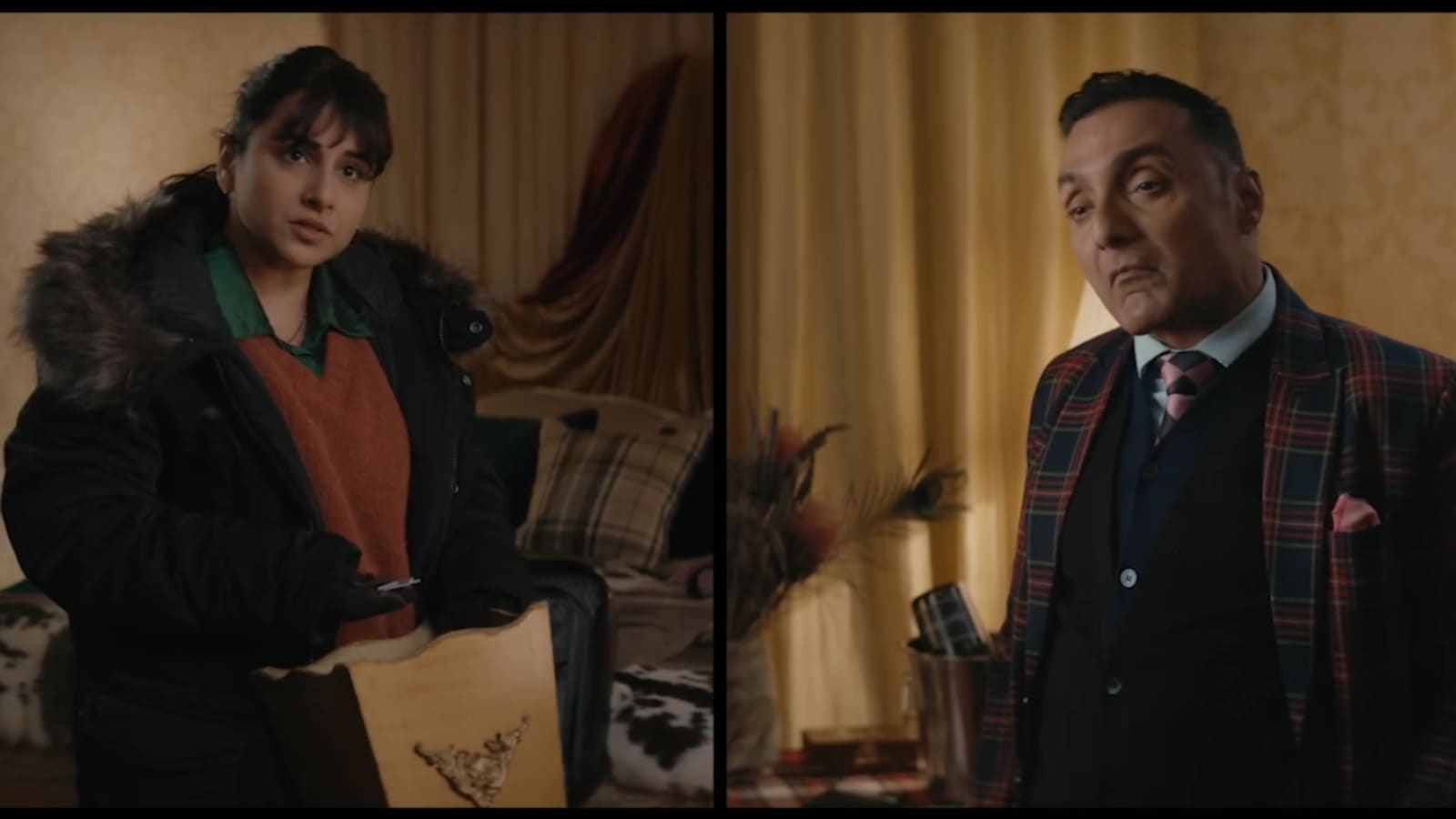 A Disappointing Comeback: Assessing Vidya Balan's Performance in 'Niyat' and Rahul Bose's Excessive Acting:
Actress Vidya Balan is set to make her comeback to the big screen after a four-year hiatus with the film 'Niyat'. Her last appearance in a film was in 2019's 'Mission Mangal'. Following that, Vidya Balan's movies 'Shakuntala Devi', 'Sherni', and 'Jalsa' were released directly on OTT platforms. There were high expectations that Vidya Balan would once again display her acting prowess on the big screen, but this time even her most loyal fans are likely to be disappointed with her performance.
In the film 'Niyat', Rahul Bose portrays the character of Jimmy Mistry. Jimmy Mistry manipulates his nephew Ryan Kapoor against his stepfather Ashish Kapoor to such an extent that Ryan ends up physically assaulting his father at a party. The intention behind this scene is unclear, and one can't help but feel sorry for the director's thought process when witnessing such scenes. Rahul Bose had a good opportunity to shine in the film, but his excessive acting ultimately detracted from the overall experience.
A Mixed Bag of Performances and Technical Shortcomings: Evaluating the Cast and Crew of 'Niyat:
Speaking of the remaining cast of the film 'Niyat', Ram Kapoor has made an effort to deliver a better performance in the role of Ashish Kapoor. However, there is nothing exceptional about the performances of Dipannita Sharma, Shashank Arora, Shahana Goswami, Neeraj Kabi, Amrita Puri, Prajakta Koli, Niki Aneja Walia, and the rest of the cast.
Nevertheless, Shefali Shah manages to garner applause in the final scenes of the film within a few minutes of her screen time. She accomplishes what Vidya Balan should have achieved throughout the entire film.
Kausar Munir, known for writing hit songs in films like 'Ek Tha Tiger', 'Dhoom 3', and 'Bajrangi Bhaijaan', has penned the dialogues for 'Niyat', but unfortunately, these dialogues come across as lightweight. The cinematography by Address Neo and the editing by Adam Maas are below average. The background music lacks anything notable except for some occasional moments of intensity.
Director Anu Menon, who previously helmed films like 'Shakuntala Devi' with Vidya Balan, was expected to deliver a better film this time, but unfortunately, 'Niyat' falls short of expectations and proves to be quite disappointing.
https://araventertainmenthub.com/the-song-of-scorpions-emotional-storm-of-irfans-performance-will-make-you-cry/
https://araventertainmenthub.com/dwayne-johnsons-black-adam-will-not-disappoint-you/
Rating: 1.5/5
Author: Sangeeta Verma
Sangeeta Verma is highly experienced professional with a Master's degree in Mass Communication. With over 10+ years of experience in the field, Sangeeta Verma has established themselves as a respected blogger, film critic, and freelance reviewer. Their in-depth knowledge and understanding of the entertainment industry, coupled with their exceptional communication and writing skills, make them an asset to any project. Sangeeta Verma has a keen eye for detail, and their insights and analysis have been published in numerous well-respected publications. Her passion for the work is evident in everything she does, and committed to delivering high-quality content that engages and informs the audience.