Gaslight Movie Review: Combination of mystery and crime thrill | e entertainment
Gaslight Movie; Sara Ali Khan, Chitrangada Singh, Vikrant Massey's crime thriller film 'Gaslight' is streaming on OTT platform Disney Plus Hotstar. In this psychological thriller, every effort has been made to add a dash of mystery and thrill 
Read Time:
8 Minute, 54 Second
Gaslight Movie Review: Sara Ali Khan, Chitrangada Singh, Vikrant Massey's crime thriller film 'Gaslight' is streaming on OTT platform Disney Plus Hotstar. In this psychological thriller, every effort has been made to add a dash of mystery and thrill \ e entertainment
Producers: Ramesh Taurani, Akshai Puri
Director: Pavan Kirpalani
Writer: Neha Veena Sharma, Pawan Kripalani and Amit Mehta
Editor: Chandan Arora
Music Director: Gaurav Chatterji
Cinematography: Ragul Herian Dharuman
Starring: Sara Ali Khan, Vikranth Massey, Chitrangadha Singh, Rahul Dev, Akshay Oberoi, Shishir Sharma & Others
Released on: OTT Disney+ Hotstar
Release Date : March 31, 2023
  Rating : 2.25/5
Watch Crime Thriller  Gas Light Movie Trailer :    👉    CLICK HERE    👈
Sarah Ali Khan, daughter of Bollywood actor Saif Ali Khan and actress Amrita Singh, washed away the stains of nepotism on her due to her excellent acting. He has done only five films so far, but has given life to his character in every film. Be it his debut film 'Kedarnath' and 'Simmba' or his last release 'Atrangi Re', his talent and dedication towards work has been praised by his colleagues and directors as well. But due to lack of success at the box office for some time, he has turned to OTT. His three consecutive films have been released on the OTT platform only. In this episode, a new film 'Gaslight' is being streamed on the OTT platform Disney Plus Hotstar. In this psychological thriller, every effort has been made to add a dash of mystery and thrill, but the slow pace of the story has ruined the hard work.
Apart from Sara Ali Khan, actors like Chitrangada Singh, Vikrant Massey, Akshay Oberoi, Shishir Sharma and Rahul Dev are in important roles in the film 'Gaslight' directed by Pawan Kriplani. The story of this film is jointly written by Neha Veena Sharma, Pawan Kripalani and Amit Mehta. But even the team of three people has not been able to maintain the pace of the story. This is the reason why the film has become very boring in the first half. There are definitely some twists and turns in the second half, which increase the level of suspense and thrill. But after tolerating for the first 40-50 minutes, if one is able to move forward then only he/she will enjoy, otherwise people may leave the film in the middle. The biggest feature of this film is that what is seen in it, does not happen, what happens, comes to know much later. Like many characters initially look positive, but eventually they become villains from heroes.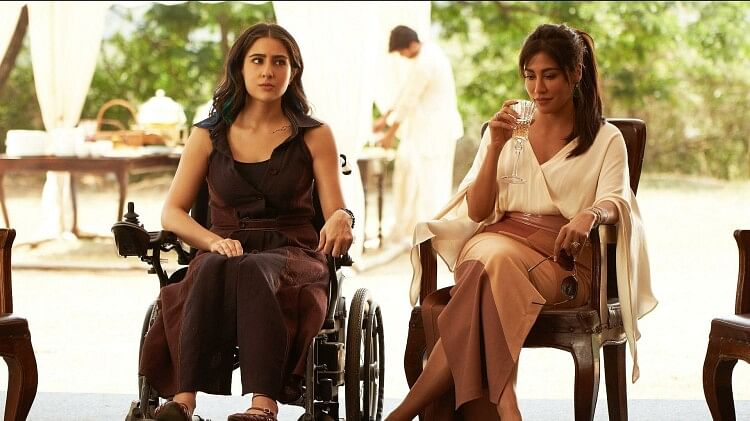 Sara Ali Khan has played the role of a disabled girl. It is a matter of great courage to accept such a character at the stage of career where any actress wants to do only romantic films. Sara has not only accepted this role, but has also fit perfectly in it. The most surprising character of the film is Kapil. Vikrant Massey has done this role. The twist of his character is the most exciting aspect of the film. Talking more about it can spoil the fun of the movie watchers. Vikrant is considered the superstar of OTT. The actor, who became a household name with Pankaj Tripathi's web series 'Mirzapur', has released five of his films on OTT in the last two years. Among these, the names of 'Forensic', 'Haseen Dilruba', '14 Phere' and 'Love Hostel' are prominent. Chitrangada Singh is present in the role of Rani Rukmini in the film. His character is also interesting. Chitrangada has done a great job. He was last seen in Abhishek Bachchan's film 'Bob Biswas', released in the year 2021. The actress, who made her debut with 'Hazaaron Khwaishein Aisi' (2005), has shown her acting prowess in films like 'Ghoomketu', 'Bazaar', 'Saheb Biwi Aur Gangster'.
Storyline:
The story of the film 'Gaslight' revolves around Misha, the daughter of a princely state in Gujarat, who has been away from her home for a long time. But after getting a letter from her father, she comes back home. In this, Sara Ali Khan's character is a friend of Misha, but due to her death in an accident, she goes to her house instead of her friend. Sara Ali returns to Riyasat as Meesha. Since Misha is physically challenged, Sara has to walk in a wheel chair. Misha's stepmother Rukmini welcomes her instead of her father in the palace. Misha does not understand that his father called him, but he himself has disappeared. She tries hard to find him. Meanwhile, strange incidents start happening with him. Sometimes he sees his father at night, and sometimes his shadow is seen. Worried, Misha files a case to find her missing father.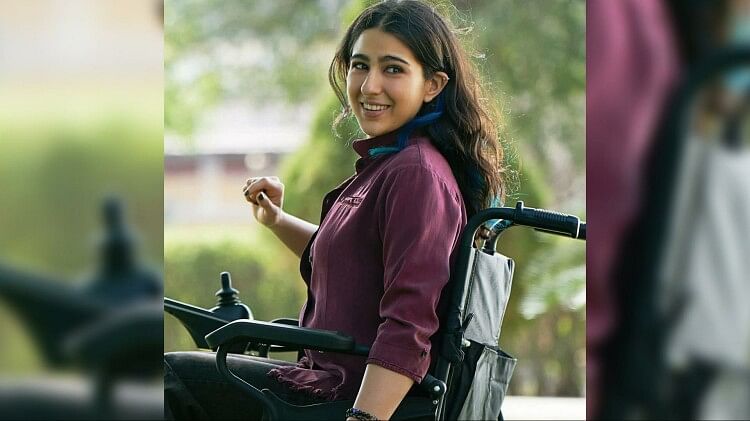 Misha's stepmother Rukmini (Chitrangada Singh) constantly tries to make her believe that nothing has happened to her father. He has gone out for some work and will be back in a few days. Meesha asks her, "Where is Rukmini my grandfather?" To this she replies, "Don't worry, he will return home in 3-4 days." , so that Misha starts to feel that her mental condition is not right. In this way, an attempt is made to usurp her property by making her appear mentally unwell. A maid working in the palace tells that her father's manager Kapil (Vikrant Massey) was very close to him. Knew everything about him. When Misha asks him, he says, "Even though I am very close to Raja Saheb, I am far away from his personal life." Thus complicating the matter. Are being given.
Misha often feels that his father is in some big trouble. Asking him for help. He even says that he has seen his father inside the house as well. He wants to say something to her. But no one believes Misha's words in the family. Even the police on the contrary question him that if his father is missing, then who has he seen. If he has seen his father, then how come he is missing. Beyond these things, Misha keeps on searching for her father. In the meantime, he finds some such evidence which shows that his father has been murdered. But the big question is who killed his father and why? Is there any hand of Rukmini behind this murder or has any other member living in the house done this work? Will Misha be able to reach her father's killers? You will have to watch this film to know.
Star Performances:
According to a review, "Gaslight" has several plus points that make it a must-watch movie. The premise of the film is intriguing, and it starts off strong. Sara Ali Khan, who has been improving with every movie she appears in, delivers a commendable performance in the lead role, carrying the movie on her shoulders with great conviction. Vikranth Massey, a talented actor, also performs well in his supporting role. Chitrangadha Singh's performance is a pleasant surprise, and she looks stunning on screen. The ending of the film features a brilliant twist that is sure to catch viewers off guard, and it is written skillfully. Overall, "Gaslight" is a movie that is worth watching for its interesting premise, strong performances, and unexpected twist.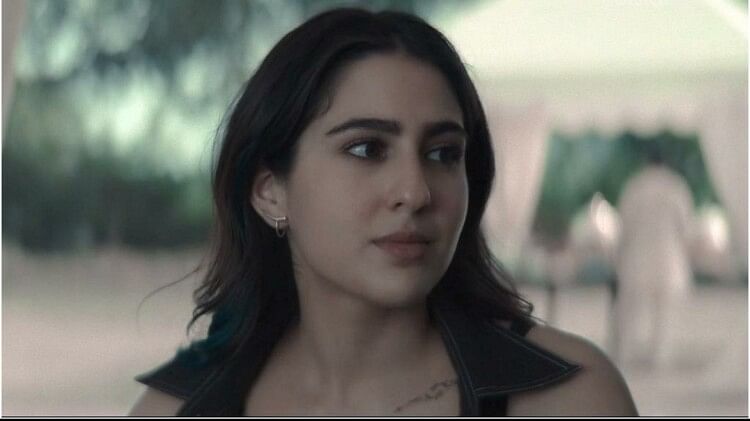 Shortcomings:
The film "Gaslight" has a few shortcomings that make it fall short of expectations. In today's age of over-the-top (OTT) content, filmmakers need to be more clever to outsmart the audience. Although the movie has several crucial twists, apart from the final one, the others are predictable and can be anticipated well in advance. The way the narrative is structured makes it easy to doubt a few characters right from the beginning scene, which removes the element of surprise. As a result, viewers may feel annoyed instead of being shocked when the twists are revealed. The film is dull and uninteresting throughout, with many tedious scenes that test the viewer's patience. Despite being made in 2023, the movie lacks modern horror techniques, with no jumpscare moments to keep audiences on edge. Furthermore, the characterization of Sara Ali Khan's character is incomplete, and more detail could have been given to her. Despite the film's short runtime, it is tough to sit through, and several irrelevant supporting characters contribute to the film's length. Overall, "Gaslight" is a movie that falls short in several areas and may not be worth watching.
The film 'Gaslight' is directed by Pawan Kripalani, who has previously made films like 'Ragini MMS' and 'Phobia'. He is also in the writing team of the film. But both the departments have not been able to work with full honesty. By the way, it is believed that if the director is the writer of the film or is in the writing team, then the film becomes good, because after understanding the basic soul of the story, direction becomes easy. Pawan Kriplani has missed here. If the pace which is seen in the last 30 minutes of the film, if it had been maintained from the beginning, it would definitely have become a great psychological thriller and would have been better than 'Sacred Games', 'The Last Hour', 'Sudal: The Vortex', Used to be seen in the queue of cinema like 'Asur', 'Auto Shankar' and 'Mithya'. Overall, 'Gaslight' is a mediocre film. If you have patience and are a fan of Sara Ali Khan, then you can watch this film.
https://araventertainmenthub.com/the-truth-behind-the-split-of-sanjeev-kumar-and-hema-malini/
https://araventertainmenthub.com/part-2-the-truth-behind-the-split-of-sanjeev-kumar-and-hema-malini/
Rating : 2.5/5
Author: Sangeeta Verma
Sangeeta Verma highly experienced professional with a Master's degree in Mass Communication. With over 10+ years of experience in the field, Sangeeta Verma has established themselves as a respected blogger, film critic, and freelance reviewer. Their in-depth knowledge and understanding of the entertainment industry, coupled with their exceptional communication and writing skills, make them an asset to any project. Sangeeta Verma has a keen eye for detail, and their insights and analysis have been published in numerous well-respected publications. Her passion for the work is evident in everything she does, and committed to delivering high-quality content that engages and informs the audience.